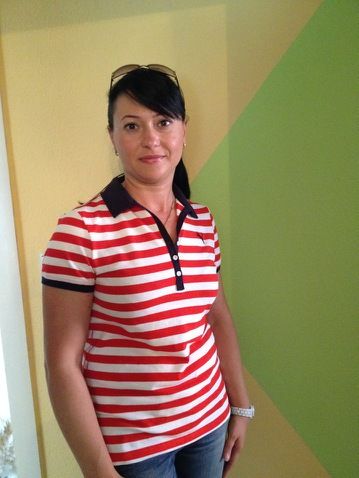 Luminita (37) came to Germany with her husband in 2003.  She brought a high-school diploma and a professional qualification as a nurse. In the beginning, she worked as an assistant nurse and was quite unhappy with it. But after some months of advanced training at Diakonie Neuendettelsau she was able to launch her career and has been working as a regular nurse for five years now.
Luminita, why did you become a nurse in the first place?
It runs in the family. My niece – who lives with us – works as an assistant nurse, too, and would like to do her apprenticeship in this profession. At first, I wanted go to medical college but I didn't succeed. And now I'm too old and don't feel like learning so many new things anymore!
How did your first months in Germany go?
I worked as an assistant nurse and was only allowed to dress patients and help them with their body hygiene. That wasn't enough for me because in Romania I had been allowed to draw blood, to administer medicine and be part of the medical rounds. So in 2004 I sent my certificates to the authorities and had to wait for a very long time. Then they told me I had to do a six-month internship in a hospital or an advanced training and a test in order to work as a regular nurse in Germany. And that's what I did!
Weren't you annoyed that you had to do another training and test although you had a professional qualification already?
In the beginning, I was, but then the advanced training was so much fun! I did very well and learned a lot of news thing, especially concerning German law. I knew the practical work but the law is different here. Diakonie is a good employer, too, my experiences are very positive!
And how are you doing today?
There are some things I'm still not allowed to do as a nurse in Germany although I was in Romania: intravenous injections, butterfly needles… A doctor does those things here. But at least I have equal rights as German nurses now. Right now I am doing a postgraduate professional education to be a wound care manager. I even sacrifice my holidays for the classes! After I'm finished, my boss wants me to do another training and become a ward manager.  That would be nice! Although the studying is exhausting… Right now I work at a nursing home, but I would love to work at a hospital some day. I like to deal with new patients every couple of days.
What's your advice for nurses from other countries who want to work in Germany, too?
The first time is hard. You don't know the language, you're scared. But don't let your fear take over and ruin everything for you!
If you are an international applicant and want to work for Diakonie, you'll find information here.