He wants to study medicine and become a pediatrician. In order to kill some time until he'll be accepted at a university, Shadi from Syria participates in a project of Diakonie Pflege-Verbund Berlin where refugees get a professional qualification. We asked Shadi some questions. On the picture, he is standing in the front row and wearing a green sweatshirt.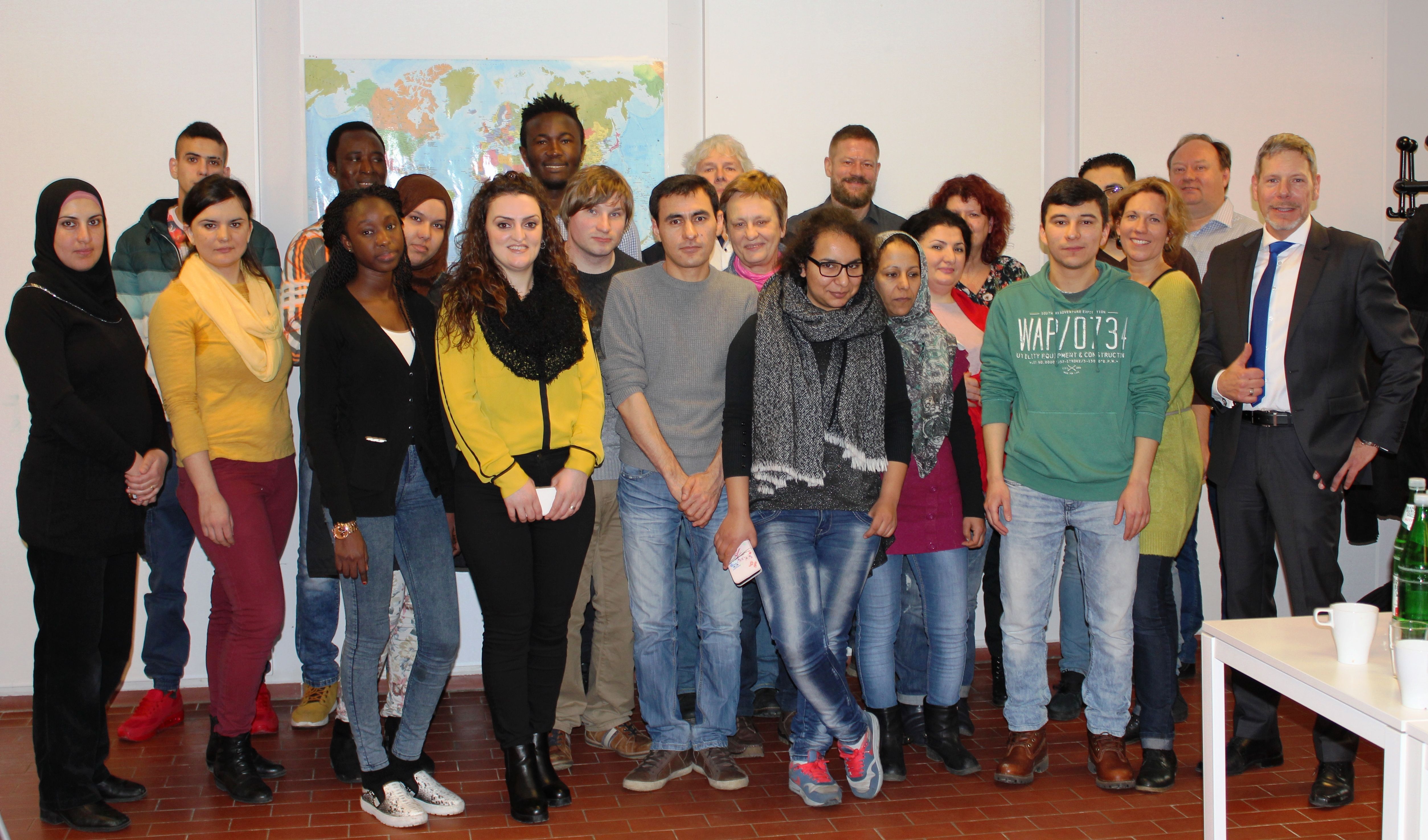 When did you come to Germany and what did you do before?
I came here in October 2014. Before that, I graduated from high school and studied dentistry for three semesters. I would rather not talk about my trip to Germany.
How was your start in Germany?
I didn't make friends with other Syrians on purpose because I wanted to concentrate on learning German. It is a very difficult language, but it is the key to integration. That's why I attended German classes, went to discussion groups and tried to make German friends.
What's your weekly schedule like?
I have school lessons four days a week and every Wednesday I go on outpatient care tours. They start at six or seven in the morning and we visit old people at home. I make them breakfast, twice I was  allowed to wash a patient. I like to try out the new things I learned on real patients!
But the school lessons are not boring either. We went to the supermarket and our teacher explained to us what to remember when shopping and that you write a shopping list in Germany. You do not do that in Syria! We practiced washing on a nursing doll and brushed each other's teeth to get a feeling for how the patient must feel when we do it for him. We have learned to say the phrase "How can I help?" in twelve different ways: anxious, friendly and others.
Is there something you do not like?
The other students can not speak German as well as I do. As a result, we are progressing very slowly, and some have quit the project. Of initially 23 participants 14 are left. We come from many different countries like Kosovo, Iraq, Albania, Cameroon. I am a Muslim and now work in a Protestant institution. That is not a problem for me.
How do you get along with the Germans?
In Syria they say that Europeans are very unfriendly, but that's not true. I have met many volunteers who are very nice to me. Just like the older ladies we visit. They say: "Well, young man, how are you? Have a piece of cake!" Even on the bus I was recently approached by a senior citizen and we talked about politics.
But in Germany it is more difficult to get in contact with young people than in Syria. Over there we are more social. If someone walks across the street with two suitcases, we go and offer our help. If I did this in Germany, people would think it's weird and say something harsh. In German class I learned the term "Berliner Schnauze" for it. What I like is that Germans say what they think. If you do not like the food you're offered or if I make a mistake in nursing, they will tell me directly. In Syria, that would be rude. But here you know what's going on. Also because of the many rules. For example, before I enter a patient's apartment, I have to take off my shoes.
What are your plans for your future?
I have just found my own appartment in Berlin-Marzahn. Everyone says it's not be nice there, but I like it. It's green and the people are nice. Germany has become my home. I would like to start a family. I've been to the Christmas market and the club to meet a woman. But unfortunately I can not dance that well.
When I finish my course at Diakonie in June and my grades are good, I immediately get a job there as a nursing assistant. Should I have to wait even longer for a chance at the university, I am looking for an apprenticeship as a geriatric nurse. But at some point I want to be a pediatrician, because children see the world differently. Recently, a child was asked on television: "Do you have foreign children in kindergarten?" The child replied: "We have children in kindergarten." Children do not see the differences.